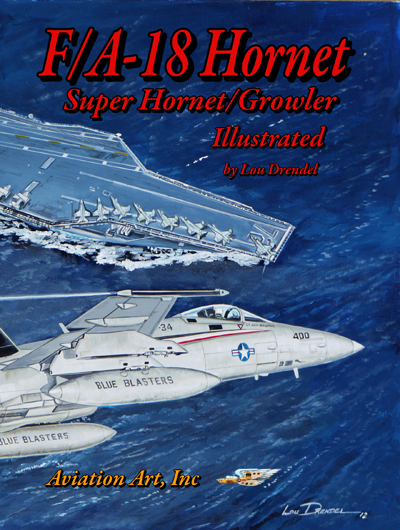 The Hornet book is in print! Buy it on the Amazon.com store.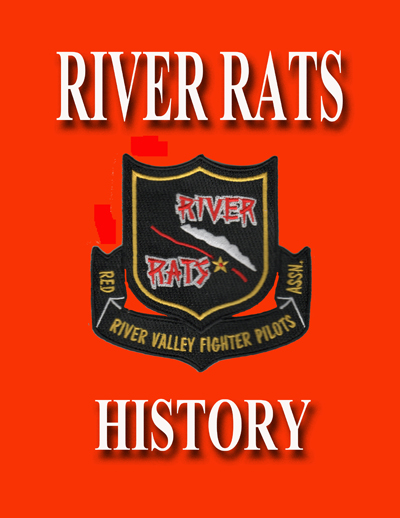 The River Rats History book is now available on Amazon.com. It is 301 pages of personal history, including some of the best flying stories I have yet heardl. Dozens of photos in both black and white and color, and much of my combat aviation art. River Rat History from 1967 to present day.
The Hornet book is a complete re-do of my earlier Illustrated title. Done in vertical format, it includes many more photos and illustrations, as well as two combat narratives from Hornet pilots. The e-book has been re-published to match the new print title.
Both of the above titles are available on Amazon.com
A note on autographed copies of the Amazon print books: Since these are "print on demand" books, I have no inventory and the books come directly from Amazon. If you buy one of these books and want a dedication, please send me a stamped, self-addressed envelope, along with the dedication you wish, and I will send you a file-card size autographed dedication.
The Amazon "print on demand" service is relatively recent, and it does not support landscape format books. I am re-doing my e-books for this service in portrait format, which allows me to include many more photos. The so far re-done in print format books are the Viper, Lightning II, and B-52 Illustrated titles. Others will follow as I am able to complete them.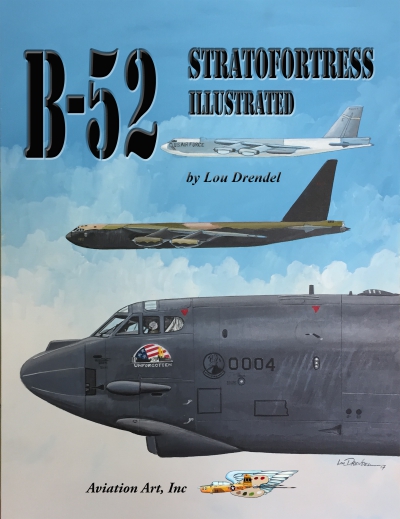 My latest ebooks, available through Amazon.com or iTunes Store. The F-35 Lightning II is the largest defense contract in history and is the most complex and capable combat aircraft in the world. The B-52 is the most iconic bomber of the past fifty years, and this is a history of the BUFF, including lots of color photos. The C-130 is the most famous of all airlifters and has been used in many roles. My latest ebook contains 130 pages of history, including lot s of color photos. The F/A-18 Hornet/Super Hornet contains the history of all versions of the Hornet, including the Growler. Heavily illustrated with all color photos which render with more clairity on your screen than they do in print. The F-14 Tomcat, A-10 Warthog, and F-16 Viper books contain the developmental and operational histories of these famous fighters, including the latest combat operations. Lima Lima is the expanded (double the size of the print book) and updated history of the first civilian 6-ship formation aerobatic team.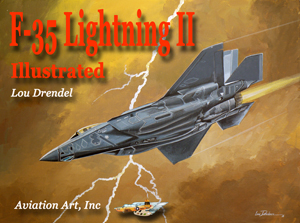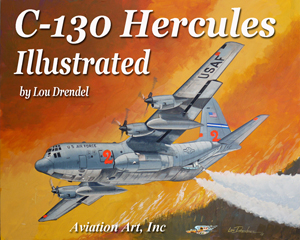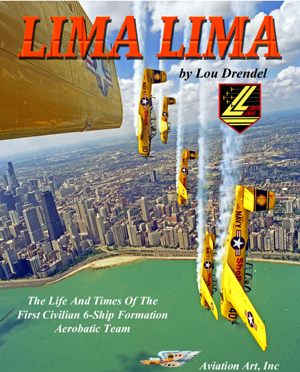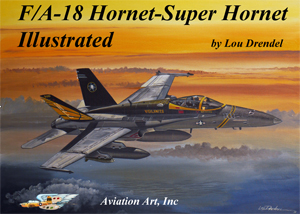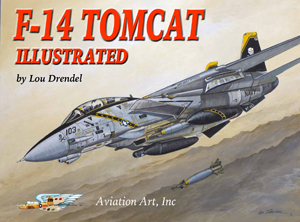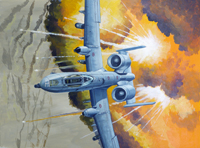 New eBook, published on iBooks and Kindle, available through iTunes or Amazon. A recap of my 40 years of rides in high performance military jets. Many of these narratives appeared in my books, but many more are in print for the first time!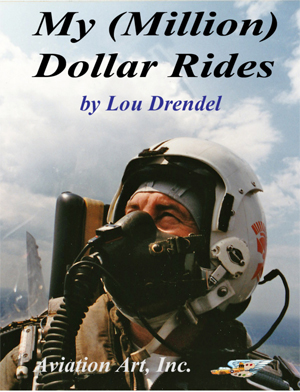 Available from Amazon here: http://www.amazon.com/dp/B00PHFLB2O
Available in the iBooks or iTunes apps.
Signed (personalized) copies of USAF in Vietnam are available for $34.95. Send PayPal to loudrendel@verizon.net
or checks to:
Lou Drendel
429 Nassau St S
Venice, FL 34285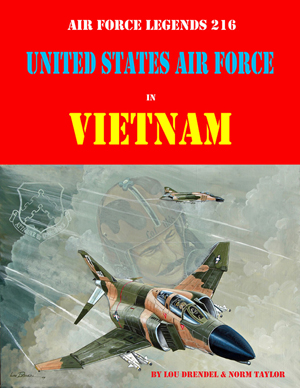 Sample Pages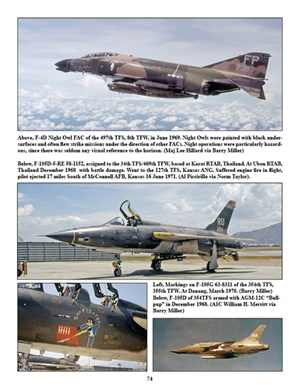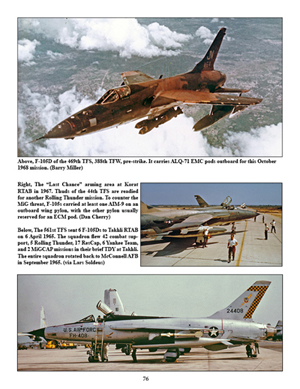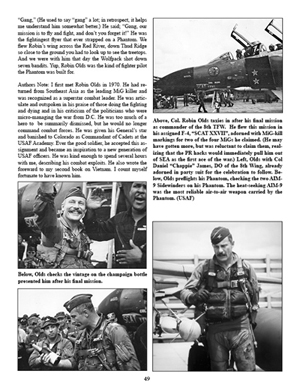 E-books from Amazon or iBooks Stores: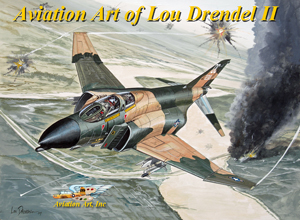 Sample pages: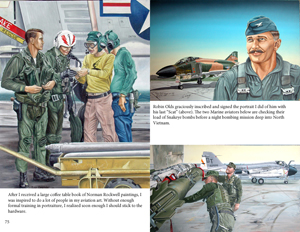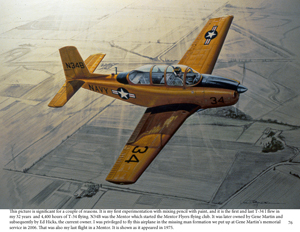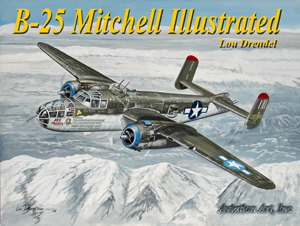 Sample pages: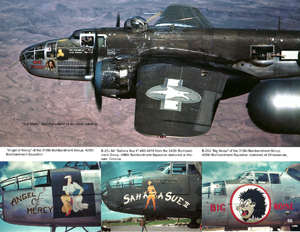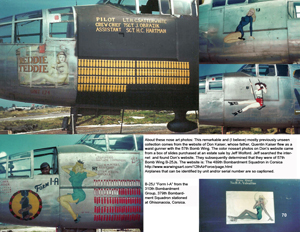 The first two of my e-books have been published in the Amazon Kindle bookstore. You can purchase them here: Lou Drendel e-books
The Aviation Art book contains my efforts that have not appeared in Squadron/Signal Publications. These are paintings covering the past 50 years.
The B-25 Illustrated was originally done for Squadron, but rejected because the photos were not hi-res enough. As you can see, they translate beautifully to the digital screen.
These titles can be read on a variety of e-readers, including Kindle and iPad. They can also be read on your computer, using the free Kindle app available from Amazon.com
Another e-book! This one is only available on the Amazon.com Kindle store. P-47 Thunderbolt Illustrated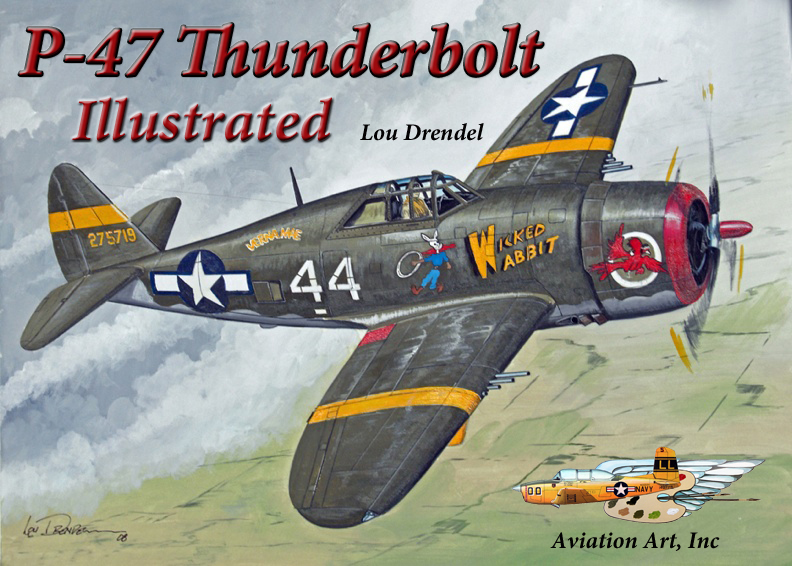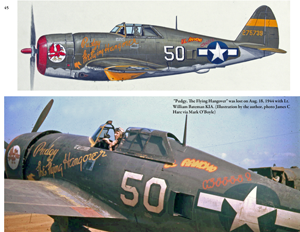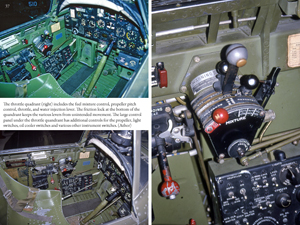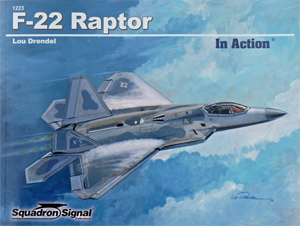 The F-22 Raptor In Action is in print! Buy a Raptor painting which is in the book and receive an autographed book with your purchase. Raptor paintings are in the Vipers and Raptors Gallery.
Link to an interview with Heritage Flight Gear:
Heritage Flight Gear Interview
My Latest Work
All art on this page is available as a print on canvas mounted on strecher bars, ready to hang. Standard print size is 20" x 15" $225 (excluding commissioned work)
I have recently received requests for art that has been sold, and does not appear on the website. This, I am sure is a result of Google searches for specific aircraft. In some cases, the art can be reproduced as a print, but any original art will always appear on this website ONLY. If it is not here, I don't have the original.
On 19 January 1991, Larry "Cherry" Pitts shot down an Iraqi MiG-25 after a low-level engagement during the early stages of Desert Storm. The Iraqi pilot ejected as soon as he was hit. 18" x 24" acrylic on canvas panel. $800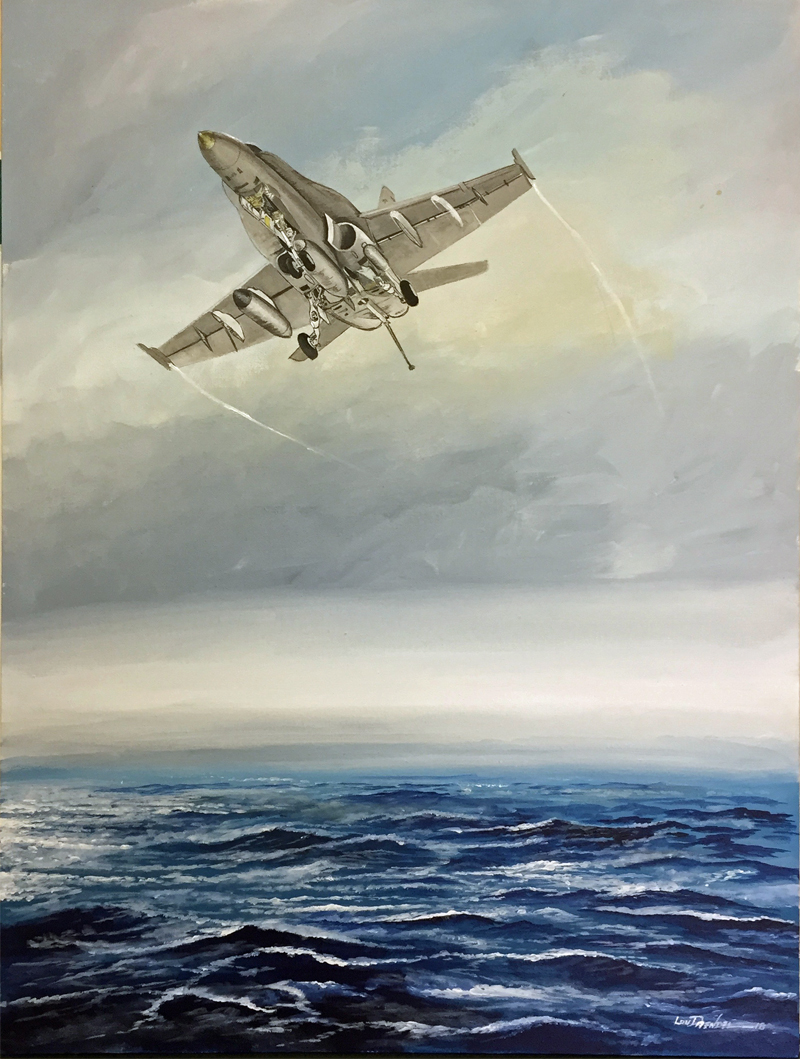 Rear Cover painting for F/A-18 Hornet Illustrated. 18" x 24" acrylic on canvaspanel. $700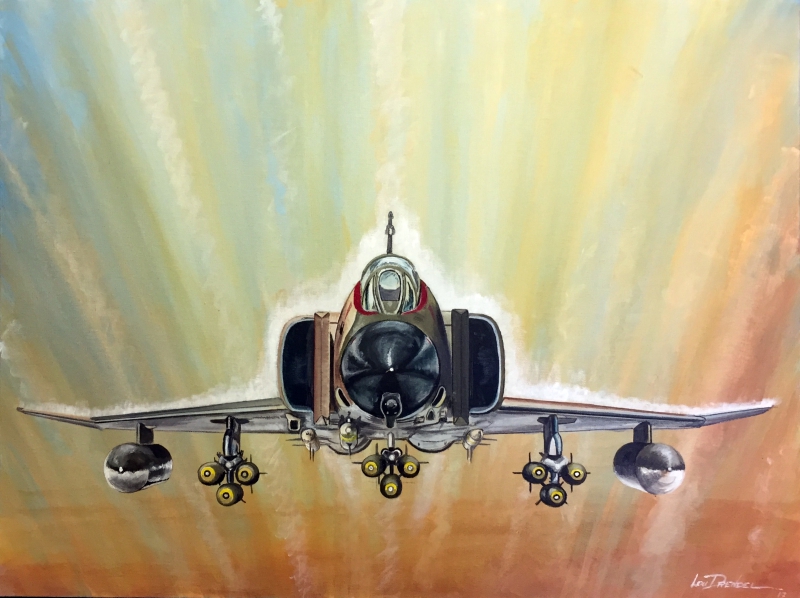 RHINO! 24" x 18" acrylic on canvas panel $800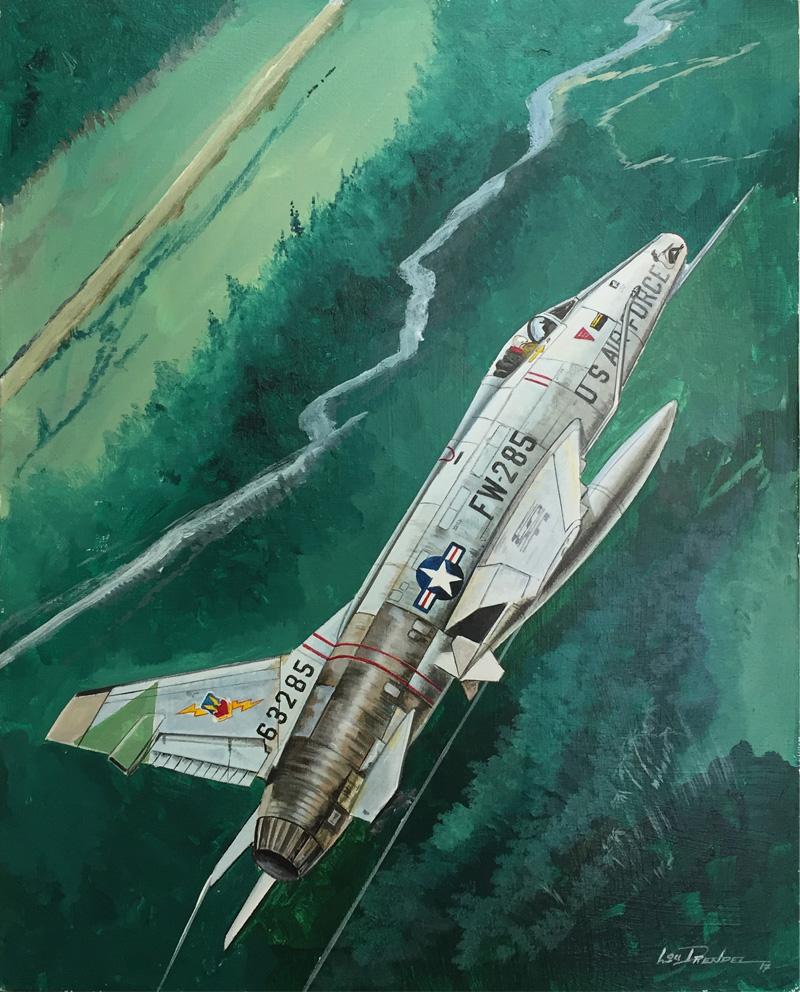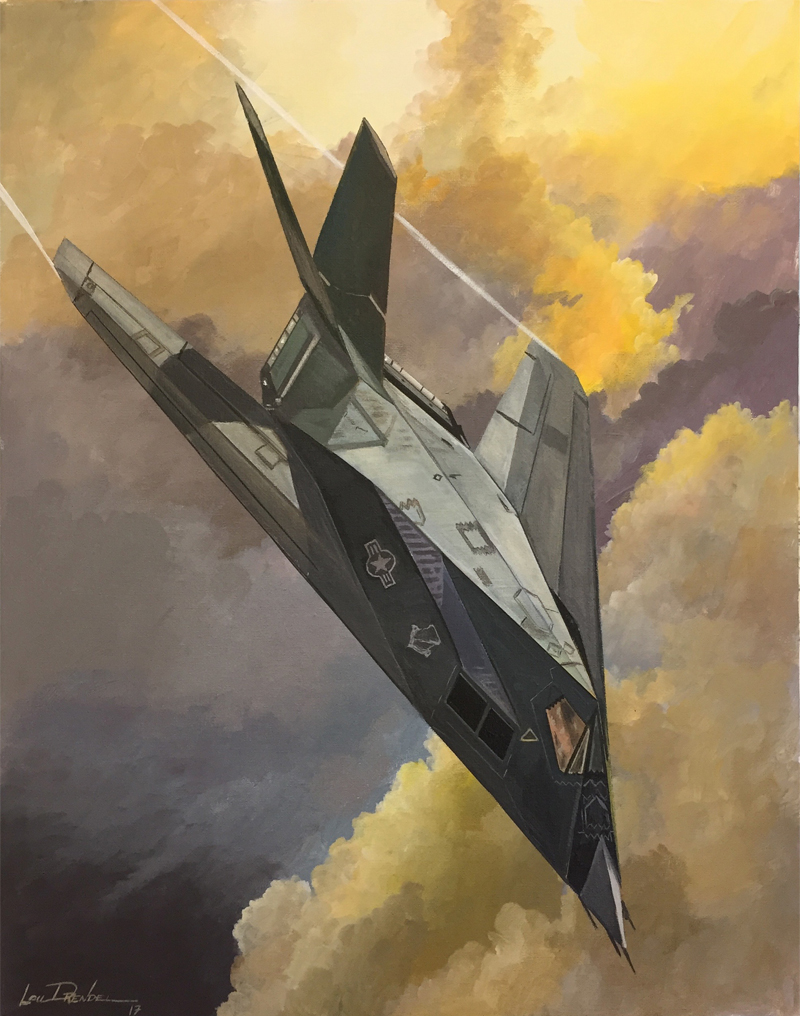 "Black Jet" 16" x 20" acrylic on canvas panel. $800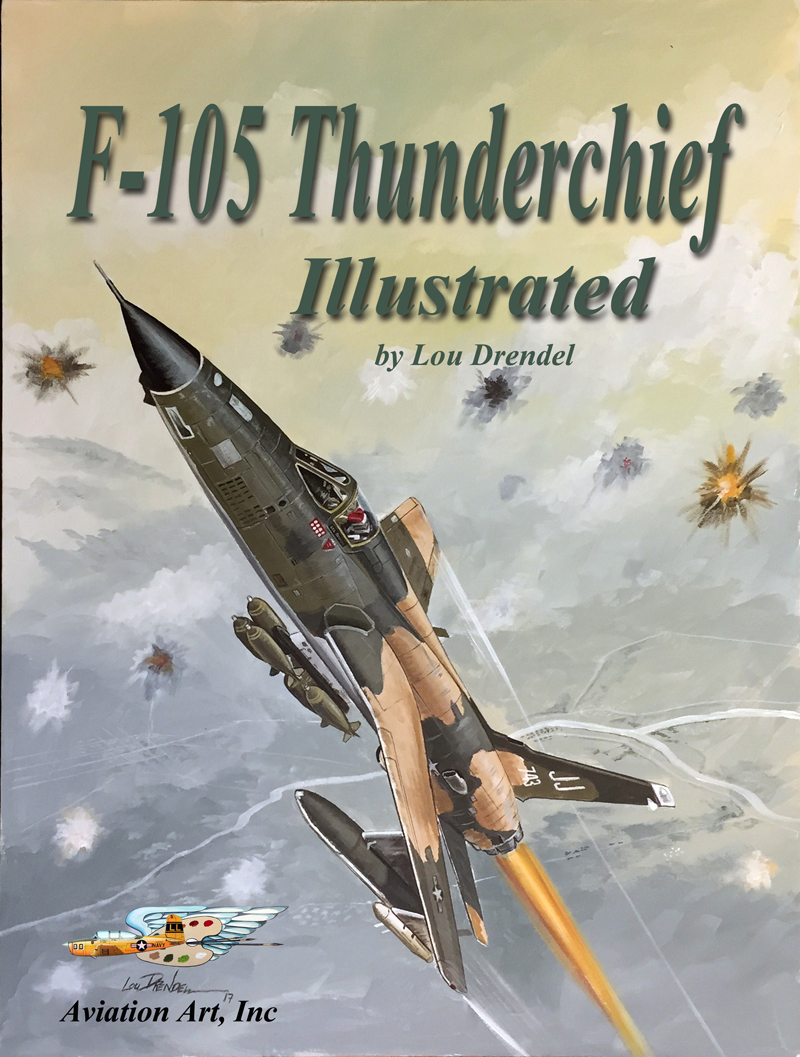 Now available on Amazon.com as both e-book (Kindle) and print book. 168 pages on one of the most important fighters in the Century Series. Most of the text is devoted to personal narratives of the combat pilots who flew the Thud into the most intense aerial defense network in history. https://www.amazon.com/dp/1549851896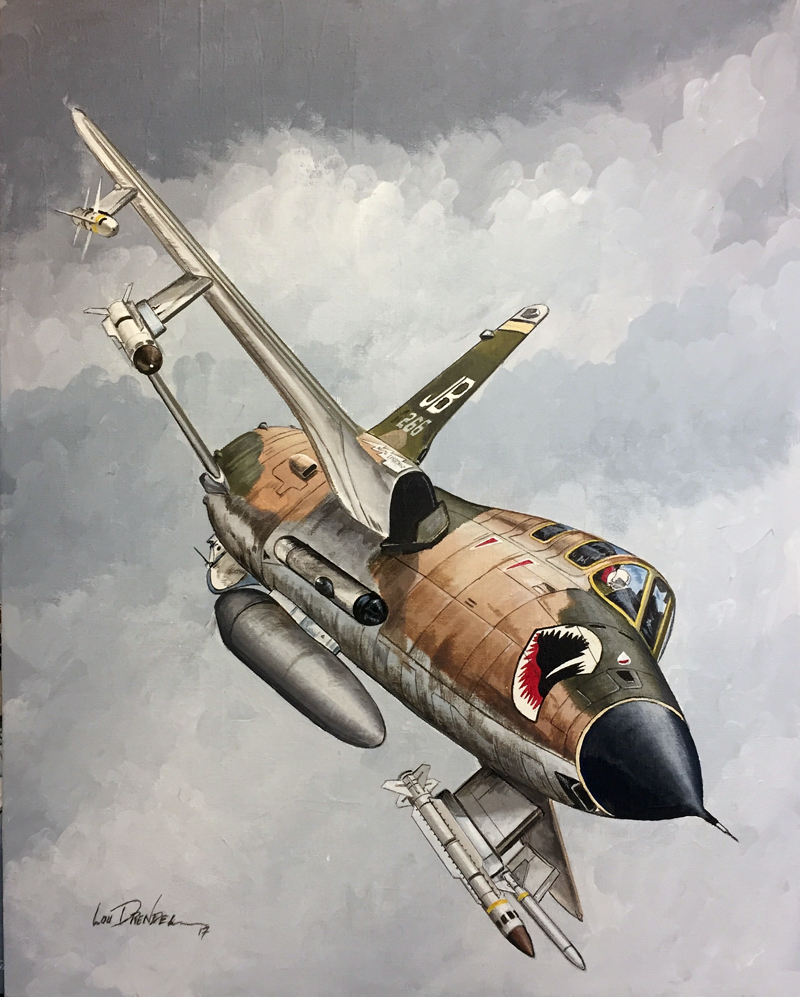 Rear cover illustration for "F-105 Thunderchief Illustrated" 16" x 20" acrylic on board $800 sold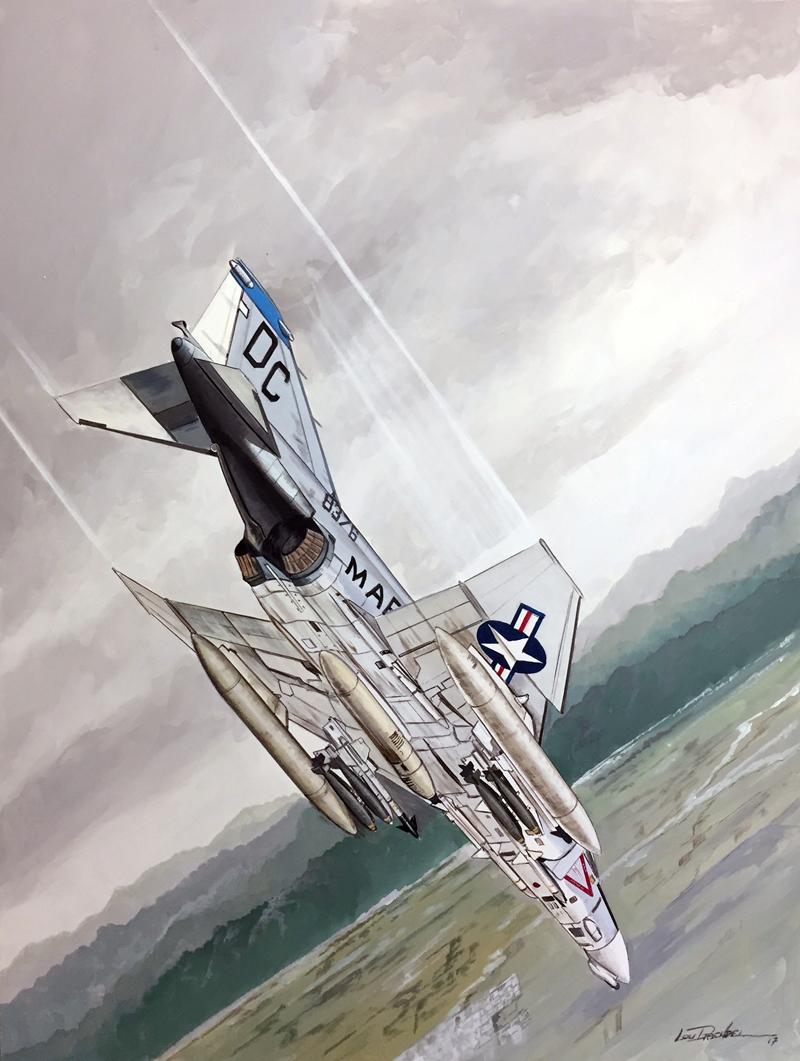 Front cover illustration for F-4B/J Phantom Illustrated. "Vertical Delivery" shows the VMFA-122 F-4B of Jack McEncroe and Steve Lear, who perfected this method of "shacking" the target on CAS missions. 18" x 24" acrylic on canvas. $800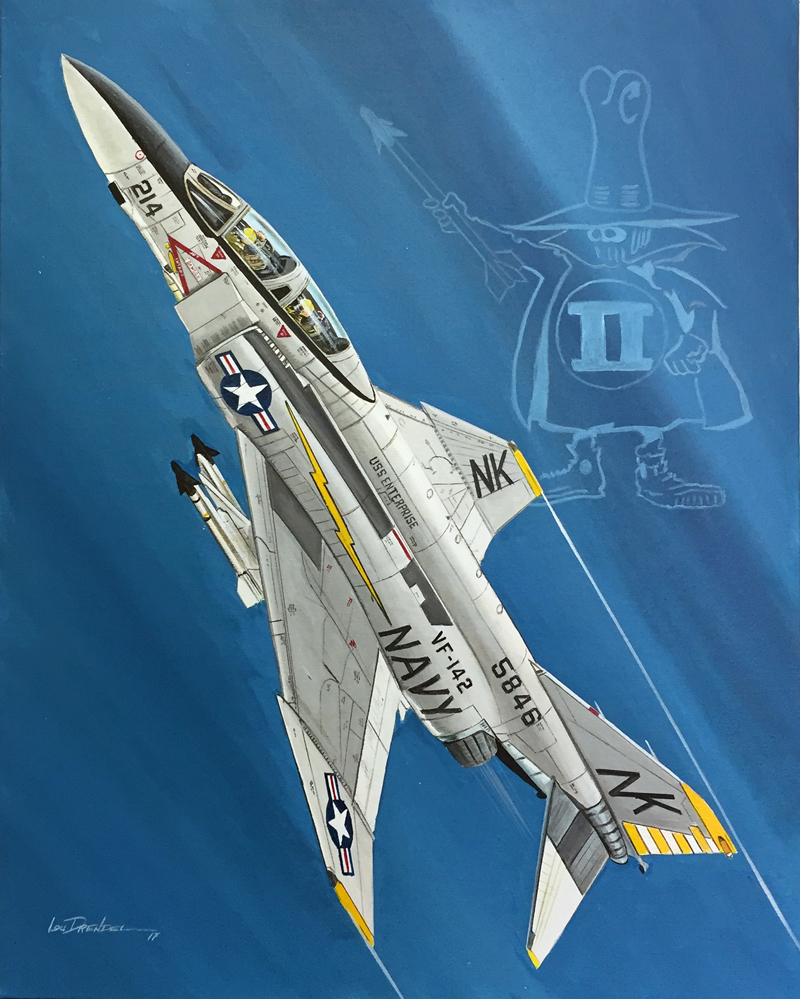 Rear cover illustration for "F-4B/J Illustrated" shows the MiG-killing Phantom of VF-142, with a Sidewinder armed Spook pointing the way. 16" x 20" acrylic on canvas panel. $800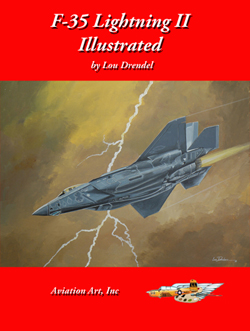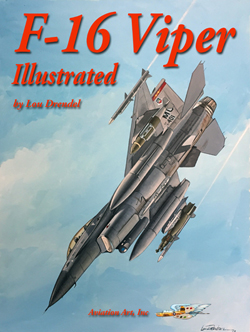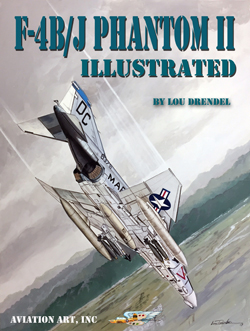 One of the most consistent requests I get from readers is; "I want a real book I can hold in my hands." Amazon.com will now print paperback books on demand, which means no large inventory of books, and the best news is that the price is right! You can now purchase a "real" version of these eBooks, which are in vertical format and have been expanded to include more photos. All are in full color. Just go to Amazon.com and search using the appropriate title.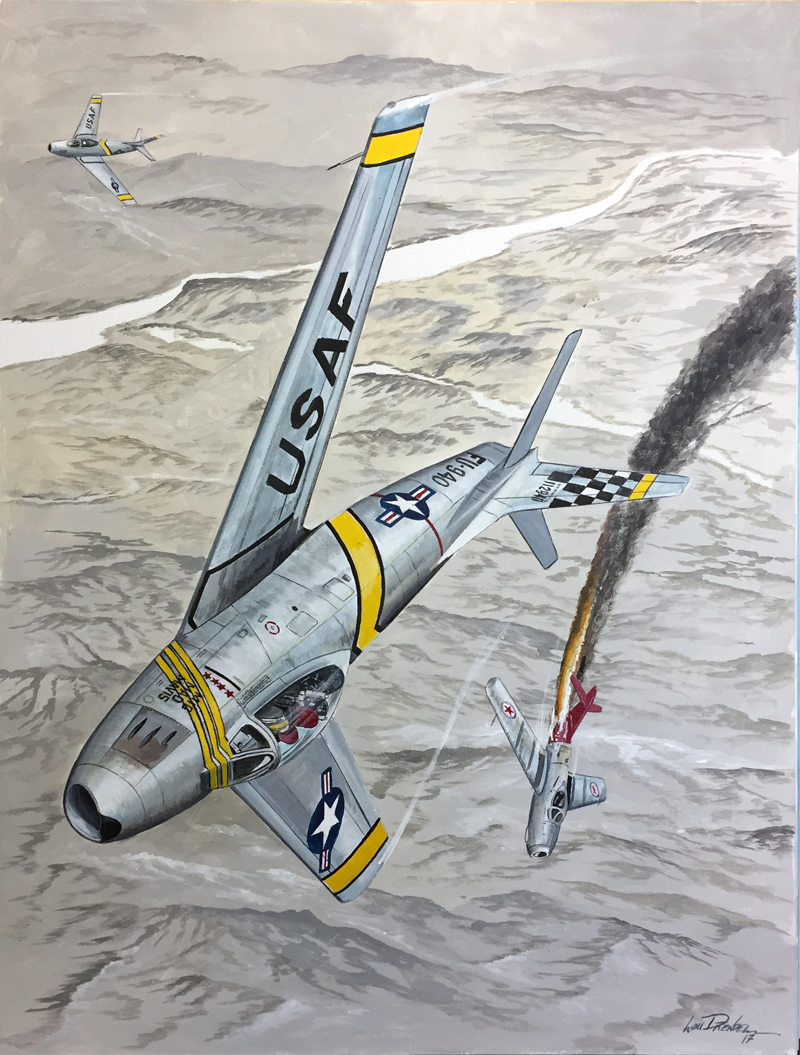 One of my favorite jets is the F-86 Sabre. It is the embodiment of "If it looks good, it will fly good!" This is the Sabre of Lt Col George Ruddell, who was commander of the 39th Fighter Squadron and a jet ace in Korea. 18" x 24" acrylic on canvas panel. $800 sold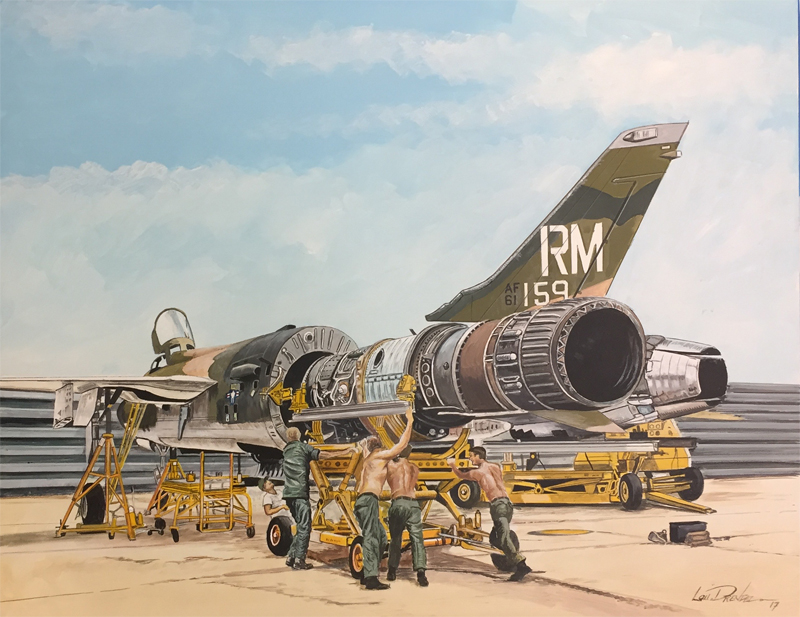 Engine Change Takhli shows a crew chief and his crew laboring to change the engine in an F-105D in Thailand, 1968. 20" x 16" acrylic on gessobord. $800
"Jinkin Josie" was an F-105F Wild Weasel during the most dangerous Rolling Thunder operations in 1968. 24" x 18" acrylic on canvas panel. $800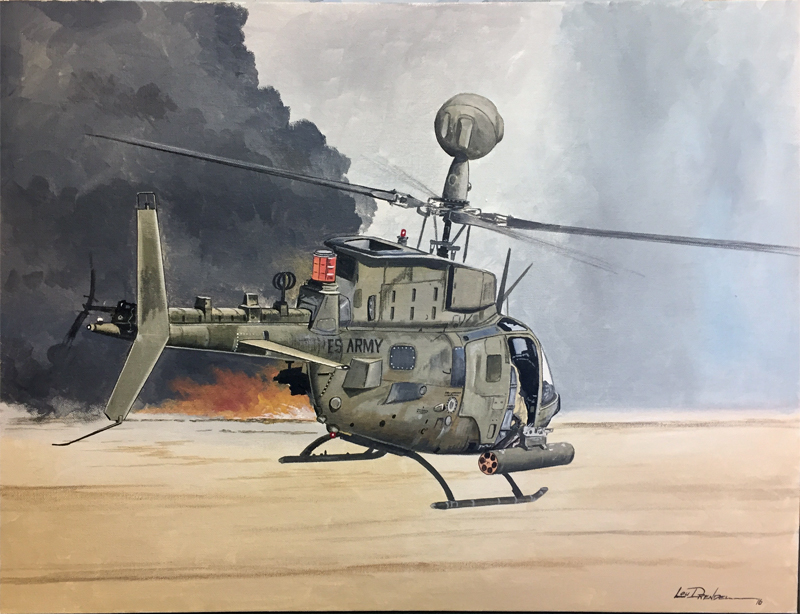 "Kiowa Warrior Over Iraq" The OH-58 has been the Army's scout helicopter since 1969. It served extensively in Iraq as a convoy escort. 24" x 18" acrylic on canvas panel. $500
Just Published!! My biggest (269 pages) book yet. It is filled with photos and art (mostly color) and many, many stories by the pilots who flew my favorite jet for the Navy and Marines. These first-person stories include lots of hair-raising (sometimes funny) experiences, in war and peace. Available in the iBooks (iTunes) and Amazon (Kindle) stores. Also available as a print book on Amazon.com.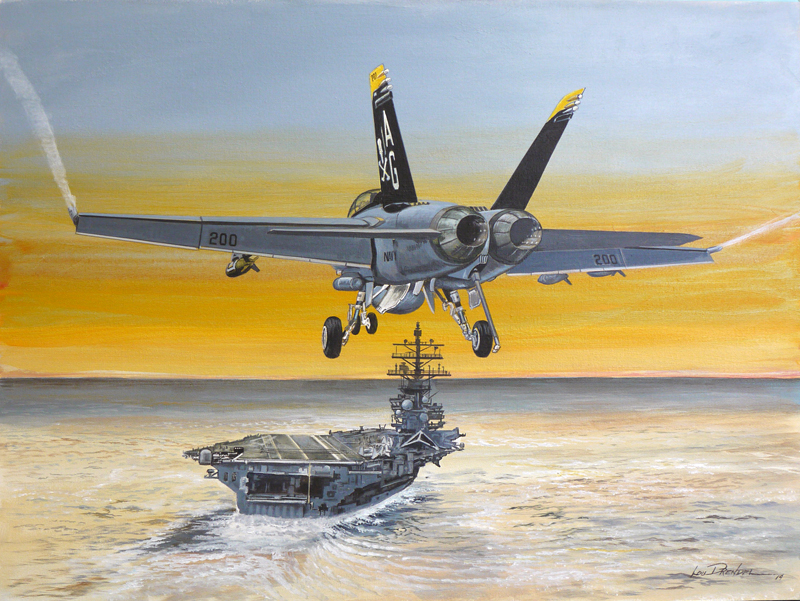 "Twilight Trap"...shows an F/A-18F of VFA-103 in the groove for coming aboard. 24" x 18" acrylic on canvas panel. $800. I moved this to the top of the page because it recently won an award in the Venice Art Center "Let Freedom Ring" contest, which honored veterans on Veteran's Day. The award certificate will be attached to the back of the painting.
Cover illustration for my F-35 Lightning II book. 24"x18" acrylic on canvas panel. $850 Also available as a 20" x 15" print on canvas, mounted on strecher bars for $195
I don't usually post completed commissions to my home page, but this was a particularly gratifying painting. It was done for Scott Holmes, whose father flew the Lockheed Warning Star from NAS Patuxent River. Scott had asked me to do a painting of the airplane, similar to another commission done a few years ago. I suggested that a portrait of his dad with the airplane would make for a better image. We were able to find a 1960s-vintage aeronautical chart for background reference. I liked the way it came out. More importantly, Scott and his mother are thrilled with the result. 24" x 18" pencil and acrylic on gessobord.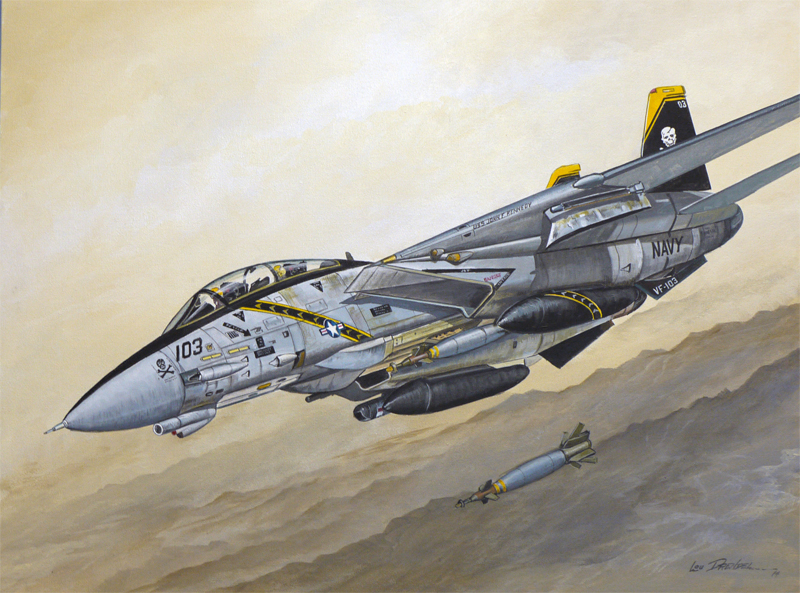 F-14B of VF-103 dropping a Laser-Guided bomb on Taliban in Afghanistan during Operation Enduring Freedom. By the end of its career, the Tomcat had morphed from the ultimate fleet defense interceptor to the best precision bomber in the fleet. Cover illustration for my ebook. 24" x 18" acrylic. $800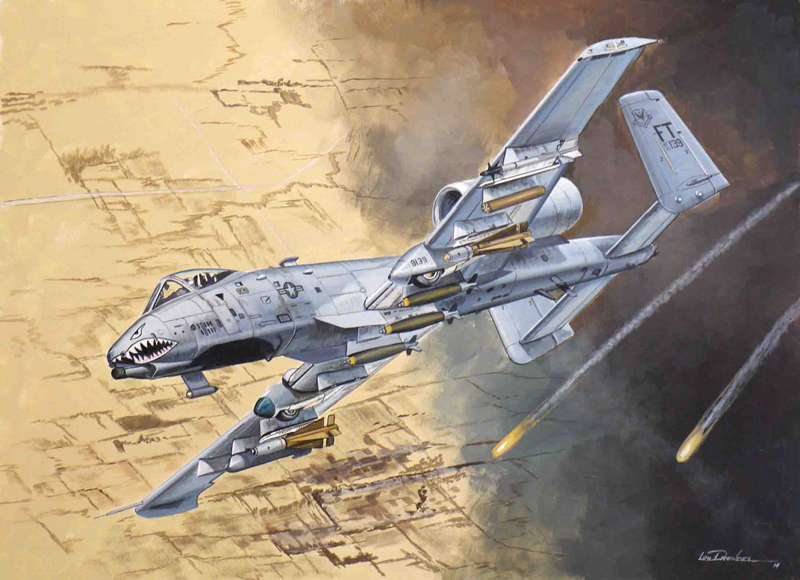 Flying Tigers Warthog. 24" x 18" acrylic on canvaspanel. $900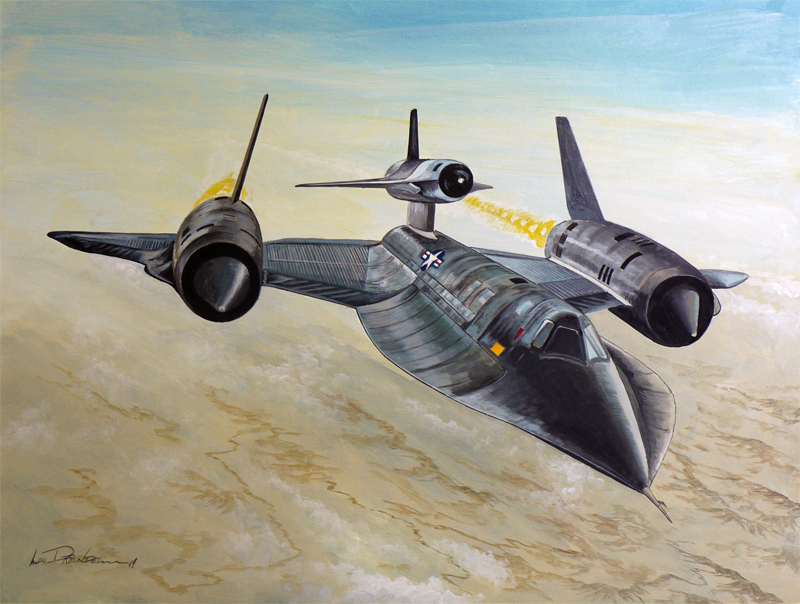 Operation "Tagboard" was the used of the Lockheed D-21 drone, and Mach 3+ unmanned reconnaissance vehicle, designed to be launched from the modified A-12, forerunner of the SR-71. The program was used breifly in the early 1960s and was discontinued after a D-21 collided with its carrier upon release, destroying the A-12 (M-21) and resulting in the death of the RSO. Only 4 successful launches were made before the program was cancelled. 20" x 15" acrylic on illustration board. $600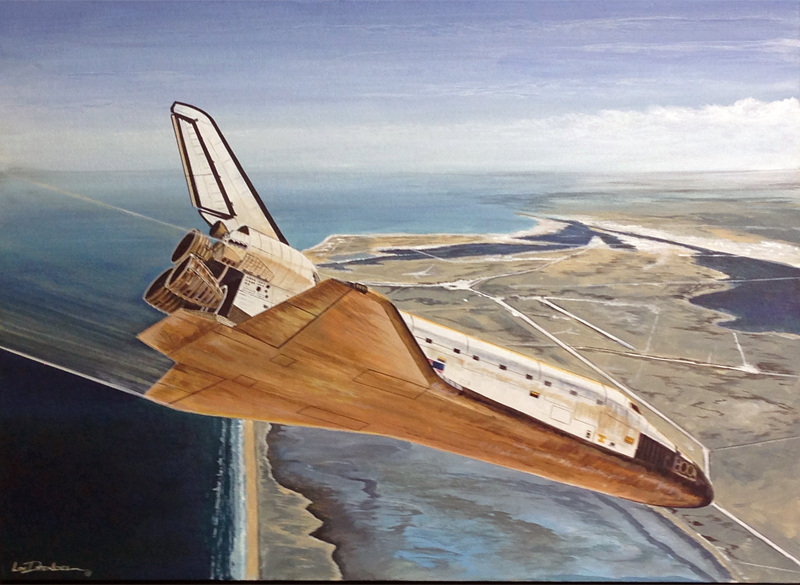 "Shuttle Comes Home" The Space Shuttle is the most complex flying machine ever built, and the landings must be performed with precision. Computers perform the re-entry and energy management phases which get the Shuttle into position for landing at Kennedy Space Center. Here the Shuttle is turning onto final approach to the 15,000 foot-long runway, with the pilot now flying. It is at 14,000 feet, gliding at over 350mph, and descending at an approach angle more than 20 times that of a commercial airliner. It is 8 miles from touchdown. 24" x 18" acrylic on 3/4" mounted canvas panel. $1,500.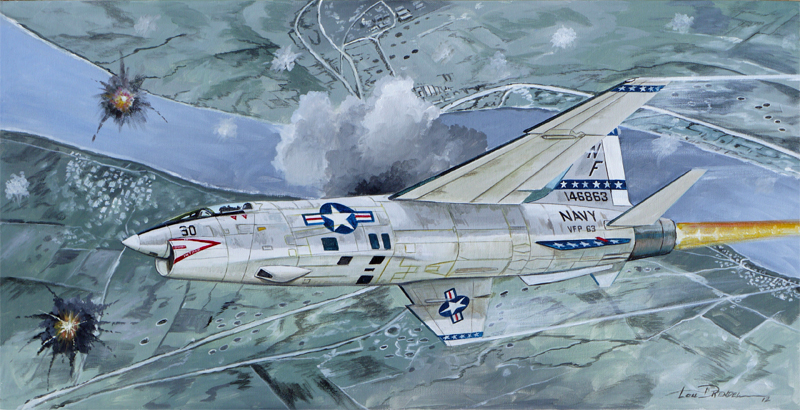 One of the most attacked (and heavily defended) targets in North Vietnam was the Thanh Hoa Bridge. The job of the RF-8 Crusader photo recon pilots was to get post-strike photos, and they usually encountered heavy AAA fire from the stirred-up defenders as they made their runs hot on the heels of the attackers. 30" x 15" acrylic on canvas panel. $800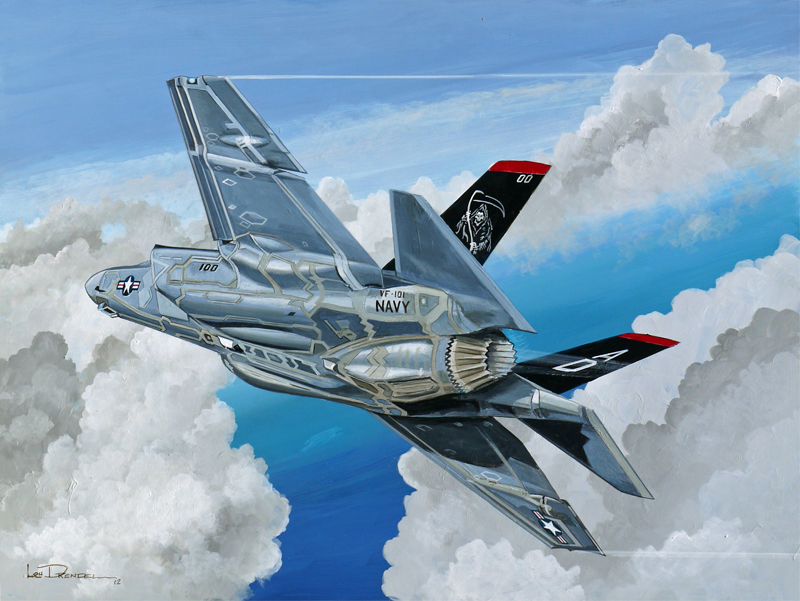 The U.S. Navy has announced that VF-101 "Grim Reapers" will be the F-35C training squadron, operating from NAS Oceana, Virginia. Though they have yet to receive their first jet, I thought it was not too much of a stretch to show a "Lightning II" in colors that VF-101 flew on their F-14 Tomcat. 24" x 18" acrylic on hardboard. $900
Surf the whole site to see an updated status on new work and reservations which have been removed, making these paintings available once again for sale.
Welcome to your tour of the on-line art gallery of the illustrations of Lou Drendel. You will see a broad cross-section of work done over the past 40 years. Many are for sale, and most are original works. Each is an individual and unique piece of collectible art.
My E-Mail addresses are:
lou@aviation-art.net
loudrendel@icloud.com